Inclusion Factory Annual CSR Reception was successfully held!
On March 16th, 2023, the Taicang Disabled Persons Federation, the Taicang Roundtable, and the Yangtze River Delta Research Institute of NPU, Taicang jointly hosted an Annual CSR Reception with the theme of "Inclusive Development and Common Prosperity".
As a socially responsible enterprise with distinctive characteristics of Taicang, the Inclusion Factory has been in operation for 8 years since its establishment. The number of people with disabilities (PWD) has increased from 12 at the beginning to 47 today.
During the event, Inclusion Factory shared that with the support of its employees, parents, and numerous partners in a collaborative and supportive environment, they have been able to achieve better outcomes.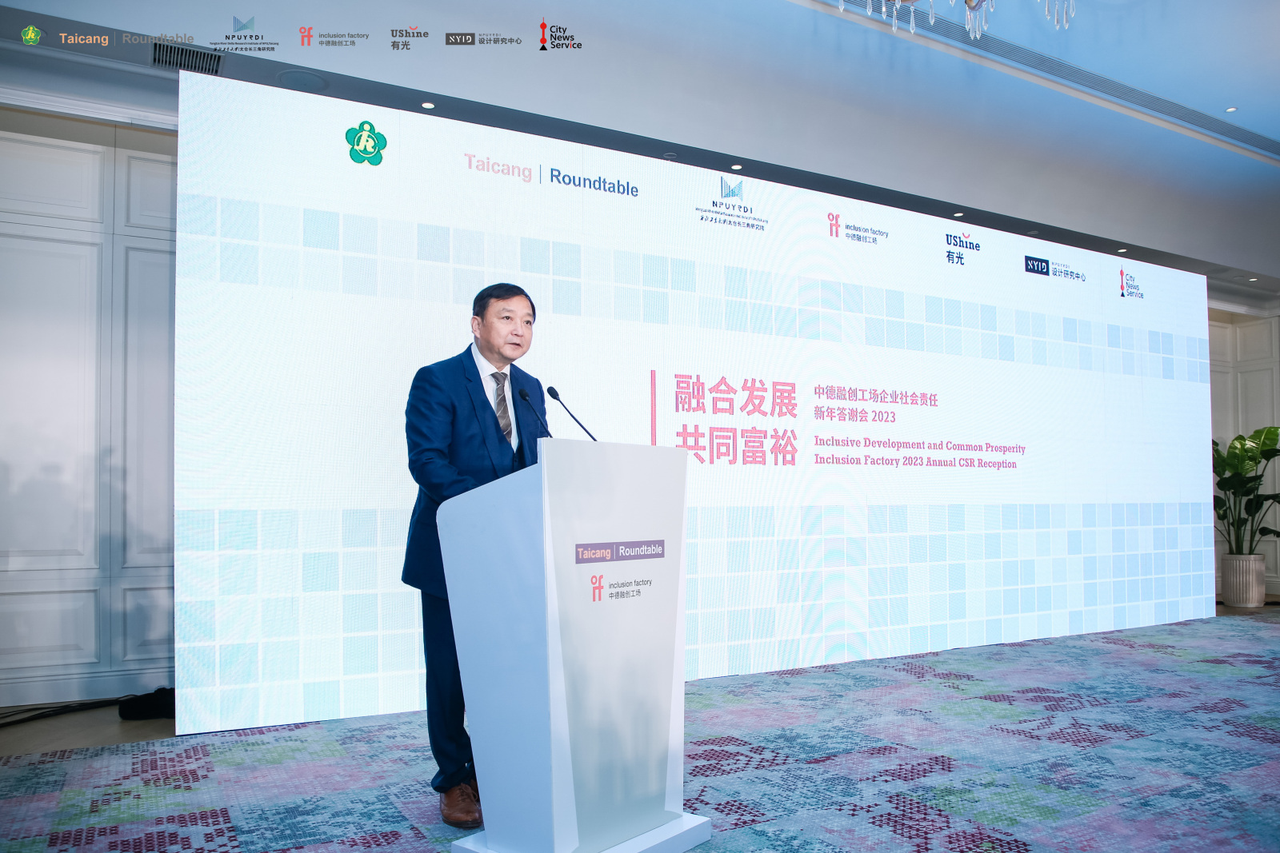 Speech by Mr. Richard Zhang , Chairman of the Taicang Roundtable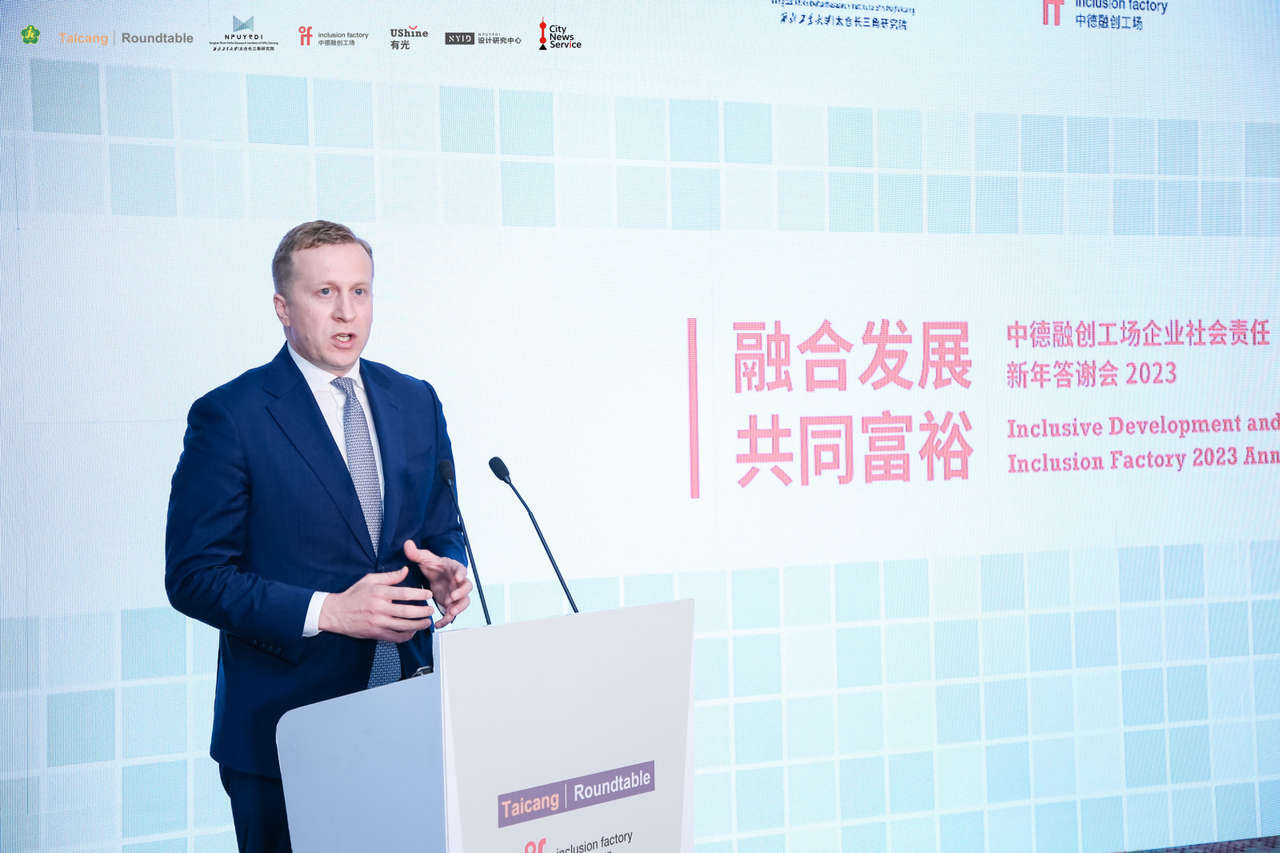 Speech by Mr. Jonathan Schoo, Vice President of the AHK Greater China.
This year, in addition to order manufacturing and education training, the Inclusion Factory expanded its development space and officially established the Taicang UShine Charity Center. In the future, UShine will provide systematic training for PWD with employment needs, while also providing professional support to enterprise with inclusive employment. Moreover, the Suzhou Jianxiong Vocational and Technical College and the newly established UShine Charity Center will jointly establish the "Taicang Inclusion Dual-System Training Center for PWD" to promote the employment and inclusion of the people with intellectual disabilities (PWID) population.
During the event, Inclusion Factory also established a strategic partnership with City News Service, an English news and information platform under the Shanghai United Media Group, and signed a collaboration memorandum, showcasing the "Next Stop, Shanghai" unique city identity of Taicang.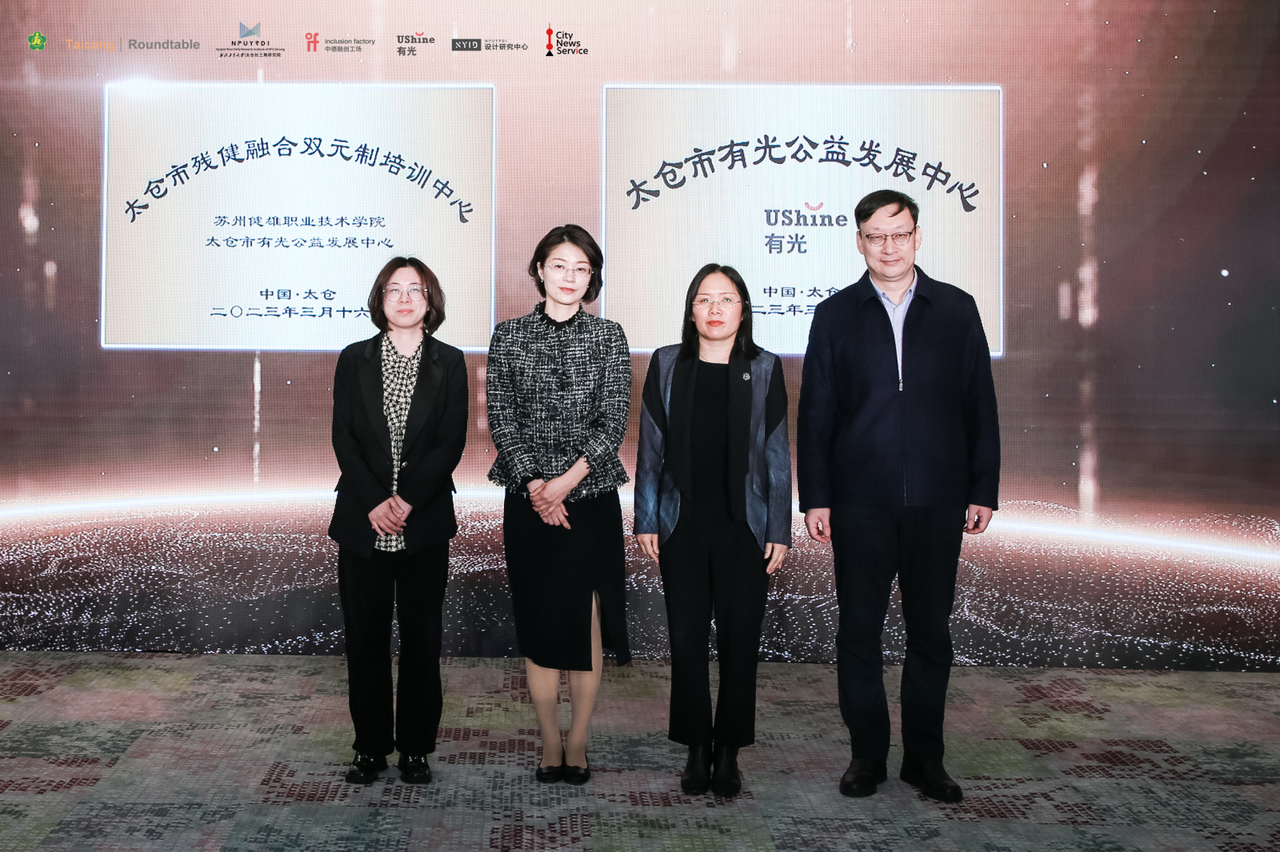 Inauguration Ceremony of Ushine Charity Center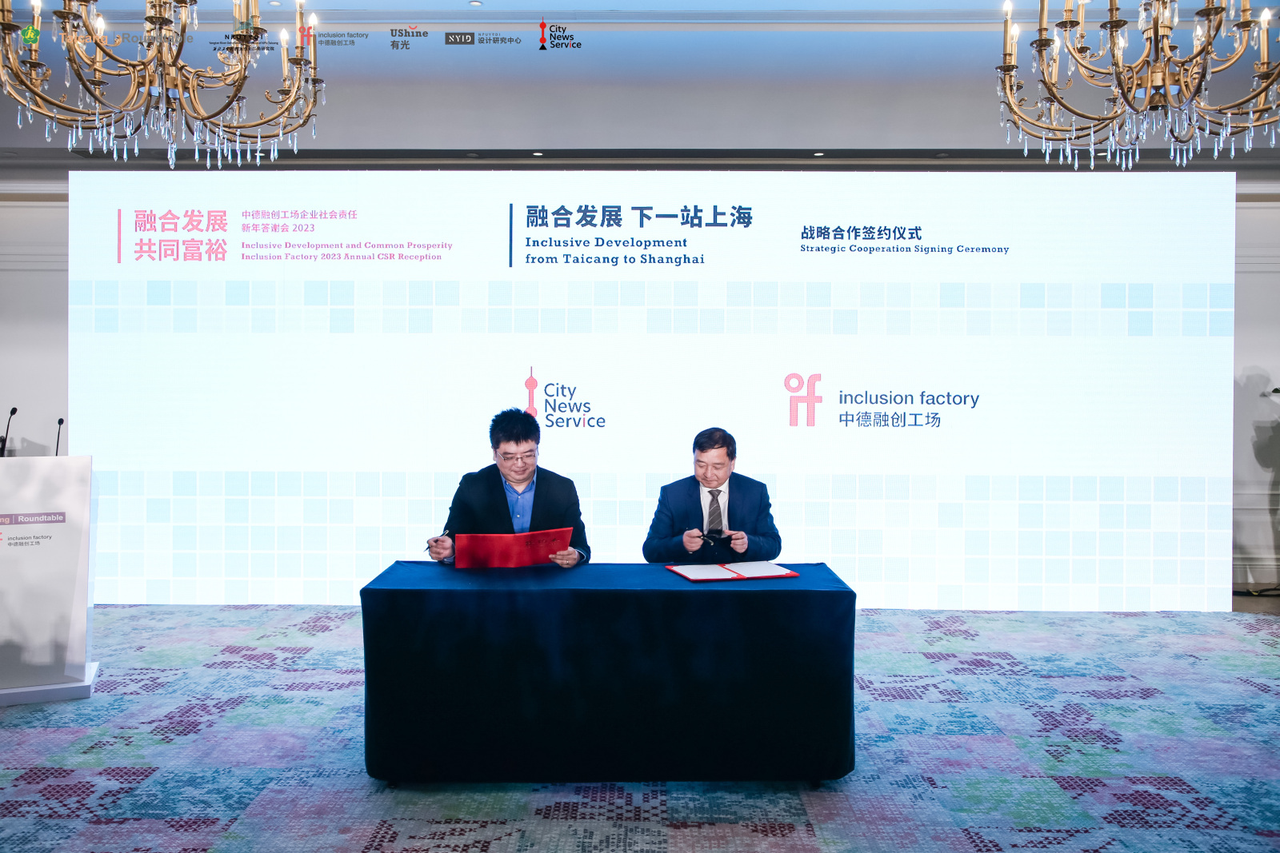 Inclusive Development, Strategic Collaboration Signing Ceremony for "Next Stop, Shanghai"
Inclusion Factory Annual CSR Reception
In the spirit of promoting disability inclusion, Inclusion Factory has recognized 19 companies and institutions for their significant contributions towards creating sustainable employment opportunities for PWD. The appreciation theme this year encompasses five categories: Unbreakable Chain, Ultimate Empowerment, Inclusion Champion, United Devotion, and Special Contributions.
TUENKERS, Würth, and Hennessy have outsourced their production orders to the Inclusion Factory, creating an "unbreakable" supply chain with social impact while providing sustainable job opportunities for PWID.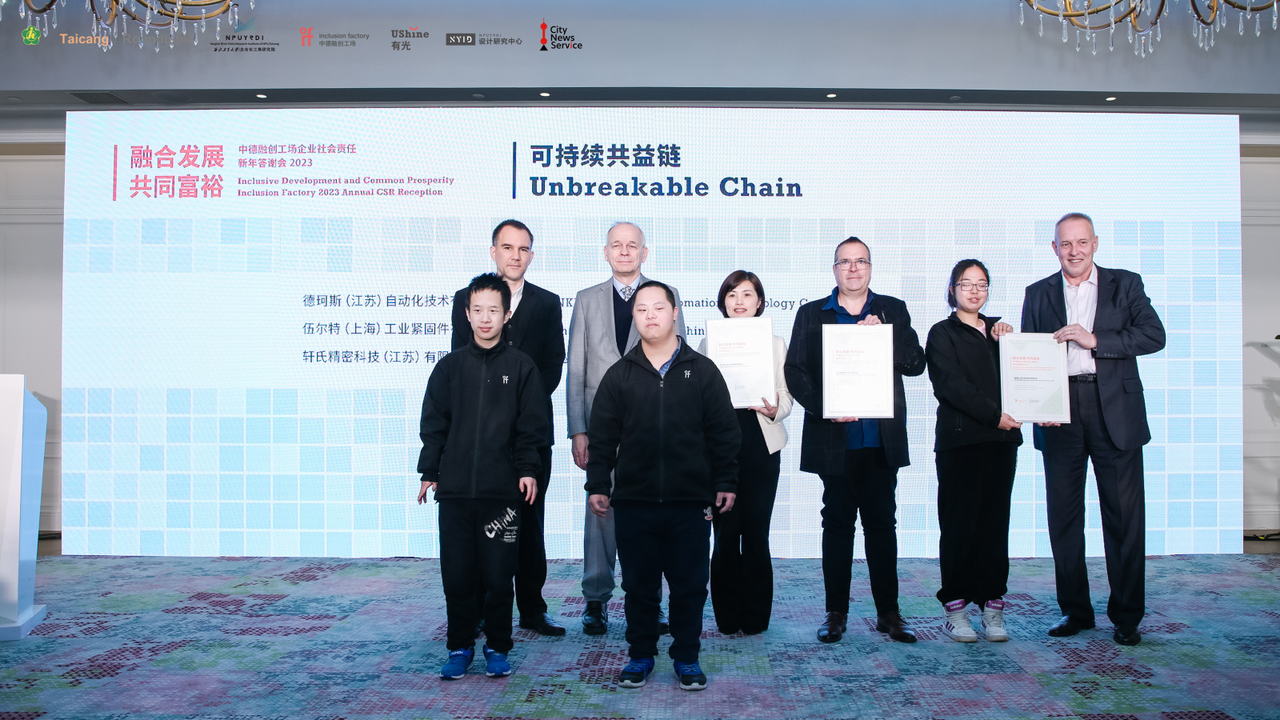 Group photo of corporations recognized in the "Unbreakable Chain" category.
Playmobil Experience Center has partnered with Inclusion Advisory to create the Inclusion Cafe, providing better employment opportunities for PWD.
Disney highly values the expertise and value of disability inclusion consulting and has promoted multiculturalism through diverse service procurement.
Mersen has conducted research on the employment environment in the industrial field, designed disability-friendly positions and recruitment channels, and made a commitment to promote disability inclusive employment.
Optibelt supports administrative work for PWID and provides them with more diverse employment opportunities.

Group photo of corporations recognized in the "Inclusion Champion" category.

Accenture has designed and built the "Accenture Industrial Worker Assistant," utilizing innovative technology to empower PWD to achieve better employment.
Schenker Logistics provides high-standard professional warehousing services that empower the operations of our factory.
Orchisky Software offers exclusive customized information technology services for the Inclusion Factory's intelligent production lines.
Taicang Engineer Association offers a series of professional courses, helping the Inclusion Factory team strive for excellence in quality engineering.
Group photo of corporations recognized in the "Ultimate Empowerment" category.
The International Design Research Center (NYID) provides year-round artistic workshops for PWID and their families. They also planned the inclusion art exhibition at this event, using the charm of nature and art to promote the development of an inclusive society.
Sin-Sino Industrial Development provides logistics services to support the sustainable operation of the Inclusion Factory.
Taicang Zhikang Health Examination Center provides free medical examinations and cash donations to the Inclusion Factory.
Passion Group, a leading local human resources service provider, sponsored a disability equality awareness workshop for HR department managers and employees of multiple companies in 2022, promoting the integration of talent with disabilities into the workplace.
All employees of ZwickRoell raised funds through running and sponsored the 2023 Chinese New Year Celebration at the Inclusion Factory, bringing more joy to the workplace experience of PWID.
Magna Mirrors, an outstanding enterprise from Canada, opens the door of inclusion to PWD from the Asian region to its Taicang factory. They support PWD in obtaining job opportunities through production orders and disability equality awareness training.


Group photo of corporations recognized in the "United Devotion" category.

Employee Representative Speech By Ms Zhou Wen Juan:

Employee Representative's Family Member Speech by Mr. Yao Yun Wei

Scene from the Charity Auction

Scene from the Charity Auction

After each appreciation segment, there was a corporate fundraising project event, including fundraising projects for employee welfare, leisure and entertainment, expanding social awareness workshops for young people, and career development for young PWID. We want to express our gratitude to every partner who actively participated in these events and helped to promote the inclusion and development of PWID.

"More Alike Than Different" Exhibition of Inclusive Art

This art exhibition showcased handicraft creations and captured images from NYID art workshops by employees and their families from the Inclusion Factory, collaborative paintings by artist Shi Zheng and the Xing Yue Children's Growth Service Center in Shanghai's Songjiang district, and artworks by artist Wang Xue Yuan. Through these creations, guests at the event gained a deeper understanding of the hardships and joys of caring for family members with intellectual disabilities and raised awareness of the discrimination and prejudice faced by PWD in daily life.

"Inclusive Development and Common Prosperity" Taicang Forum

During the conference, Stuart Perrin, Dean of the Entrepreneurship Institute at Xi'an Jiaotong-Liverpool University, and Professor Yu Zhi Yuan from the School of Social Development and Public Policy at Fudan University, shared their insights on promoting inclusive development and common prosperity. Meanwhile, Joshua, General Manager of Playmobill in Shanghai, Li Hong, Chairperson of the Happy Inclusion Foundation in Beijing, and Chen Zi Ye, Senior Project Development Officer at the Inclusion Factory, shared their practical cases of promoting the employment of individuals with intellectual and developmental disabilities.

Inclusion Factory Open Day

During the open day event at the Inclusion Factory, employment partners introduced how different companies collaborate in their respective fields to promote the sustainable development of the factory to representatives from various enterprises and charitable organizations. They also explained the specific work process of the employees on the production line and the accessible design throughout the factory.

We will continue to move forward and we hope that more like-minded individuals will join us in developing the cause of the disabled and witnessing a brighter future for the young hearts.

Special thanks to

Exclusive Media Coverage
City News Service

Media Support
Suzhou Broadcasting System
Taicang Fusion Media Center

Event Planning
HMD Media

Interpretation and Translation Consultation
Inktale Shanghai

Brand Promotion
JungleFish

Venue support
Taicang Maritim Conference Center

Collaboration for mutual benefit, feel free to contact us.
https://inclusion-factory.com/wp-content/uploads/2023/03/题图.jpg
1032
1589
Forest Leung
https://inclusion-factory.com/wp-content/uploads/2023/11/Inclusion-Factory-logo-titled.svg
Forest Leung
2023-03-21 11:14:08
2023-03-21 21:03:07
Inclusion Factory Annual CSR Reception was successfully held!