Social Inclusion Academy has new graduates!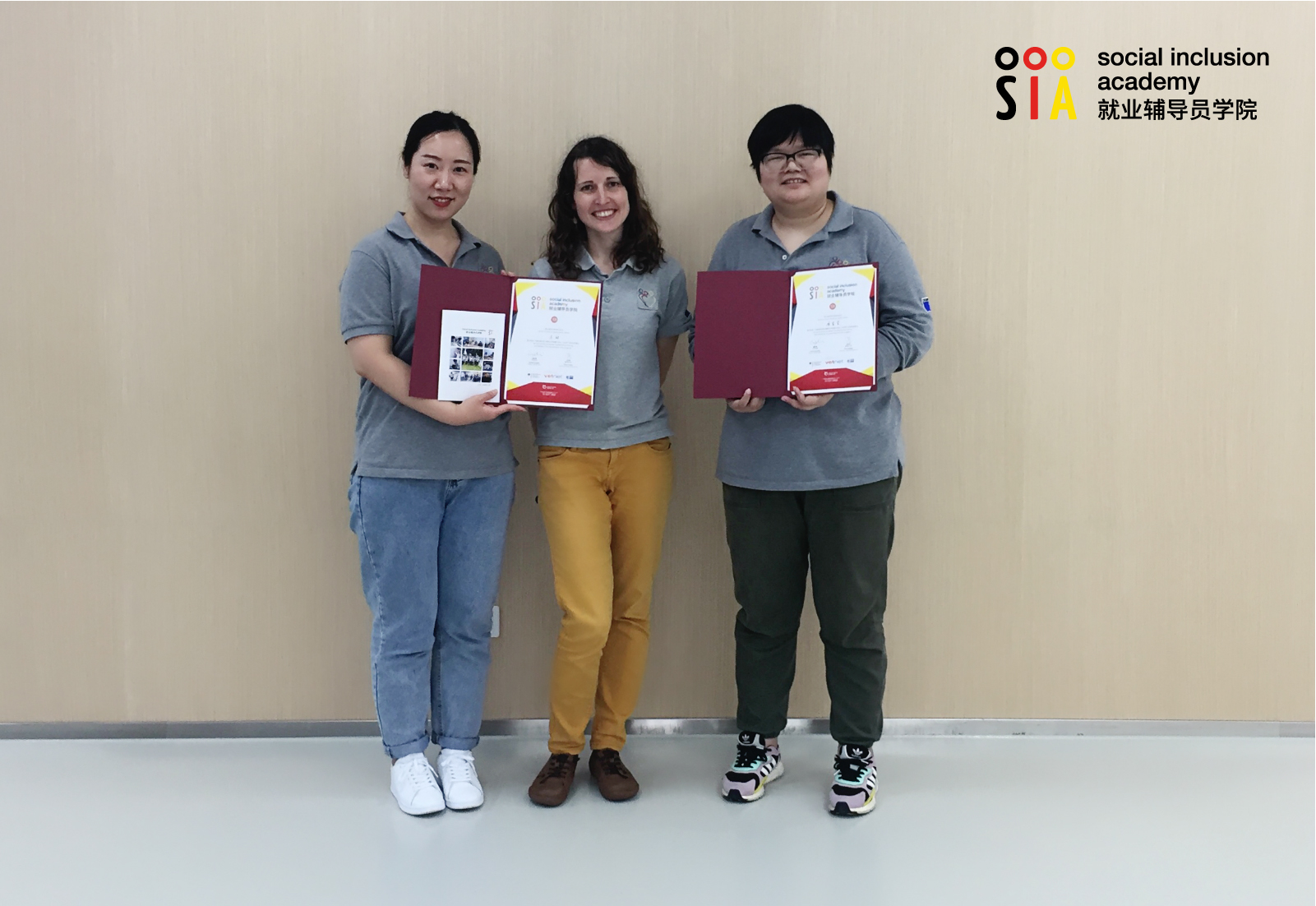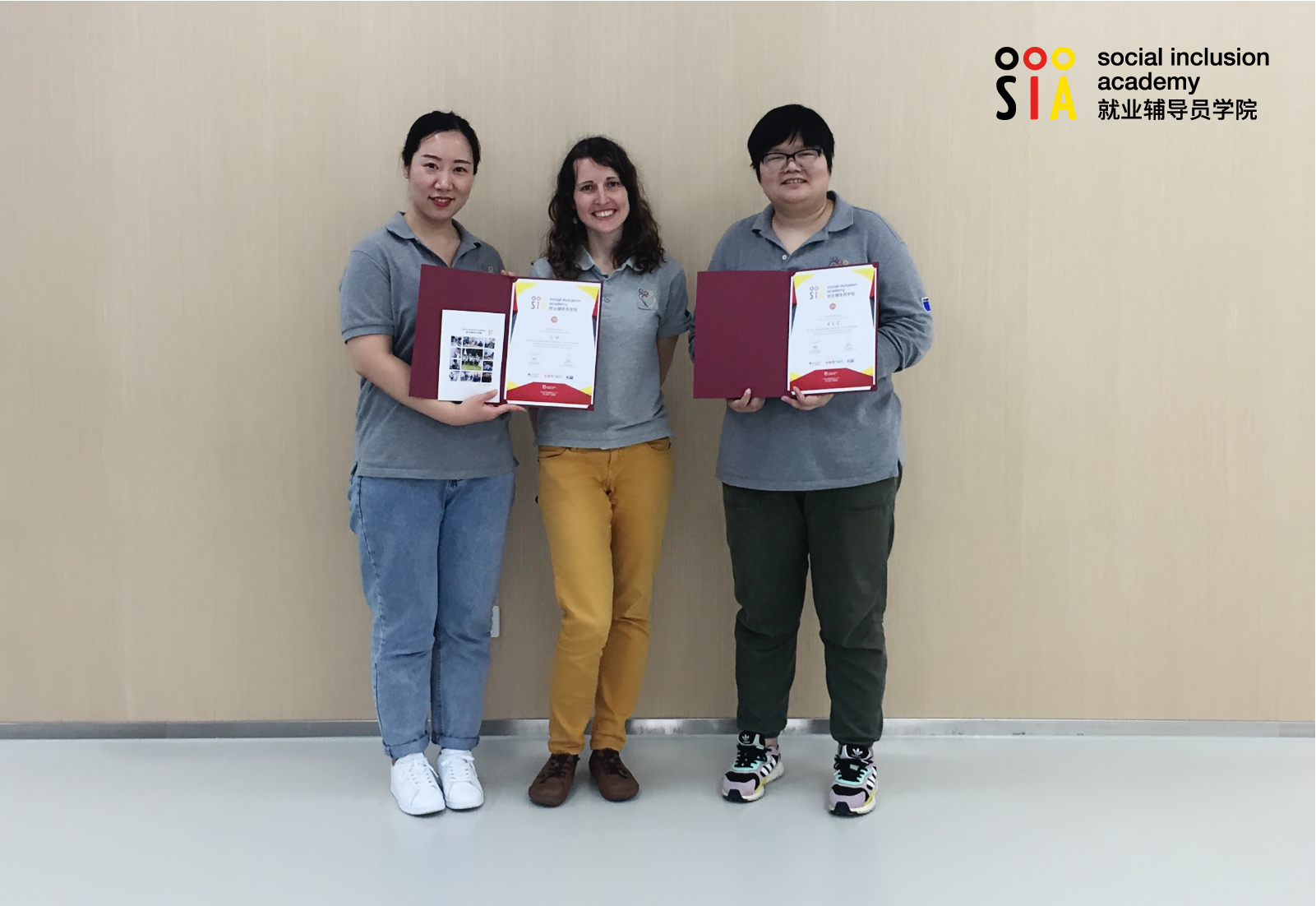 After a month of intense workshops, lectures and practice in the production line, graduates of our Social Inclusion Academy are ready to implement newly acquired knowledge and test different practices back at their home organizations in Tianjin and Shenzhen.
Scholarship for participants from local NGOs
This year we diversified participants of our SIA program.Apart from students from our long-term project partner – Nanjing Normal University of Special Education, we decided to offer a special scholarship to participants from local NGOs. It was very hard to choose the right participants, because we had received numerous applications from motivated candidates from all over China. After several rounds of interviews, we decided to offer scholarships to Ms Ma Yan from Star's Dream Public Service Centre and Ms Qin Yingying from Shenzhen Autism Society. SIA offered them a platform for exchanging ideas, reflecting on different practices in the field of employment of people with intellectual and developmental disabilities and getting inspiration from experts from different fields for their future life and work . After a month of intense training, they are ready to keep promoting inclusive employment of people with disabilities in their home organizations.
Systematic course with well-balanced theory and practice
SIA program is a systematic training composed of seven different modules, covering topics from Employment Models, Assessment Methods, Legal Aspect of Employment of people with disabilities to basic understanding of production environment, including Quality Management and Reasonable Accommodations in the Workplace.
The training takes place in Inclusion Factory, which offers a unique chance to test newly acquired knowledge right on the spot. It sounds easy to say that we all should treat people with disabilities equally or that we should communicate in a respectful way, but how to do it? After several lectures about Disability Awareness, Effective Communication Strategies or Training tools, our participants had a chance to test their knowledge straight away in a real life-environment of our company. Apart from passing the final exam, SIA participants had to accomplish several practical tasks – designing and facilitating group training, preparing working schedule for the next day, training new projects to our employees and so on. We believe that the best way to learn is by doing – not only when it comes to teaching our employees, but also our SIA students.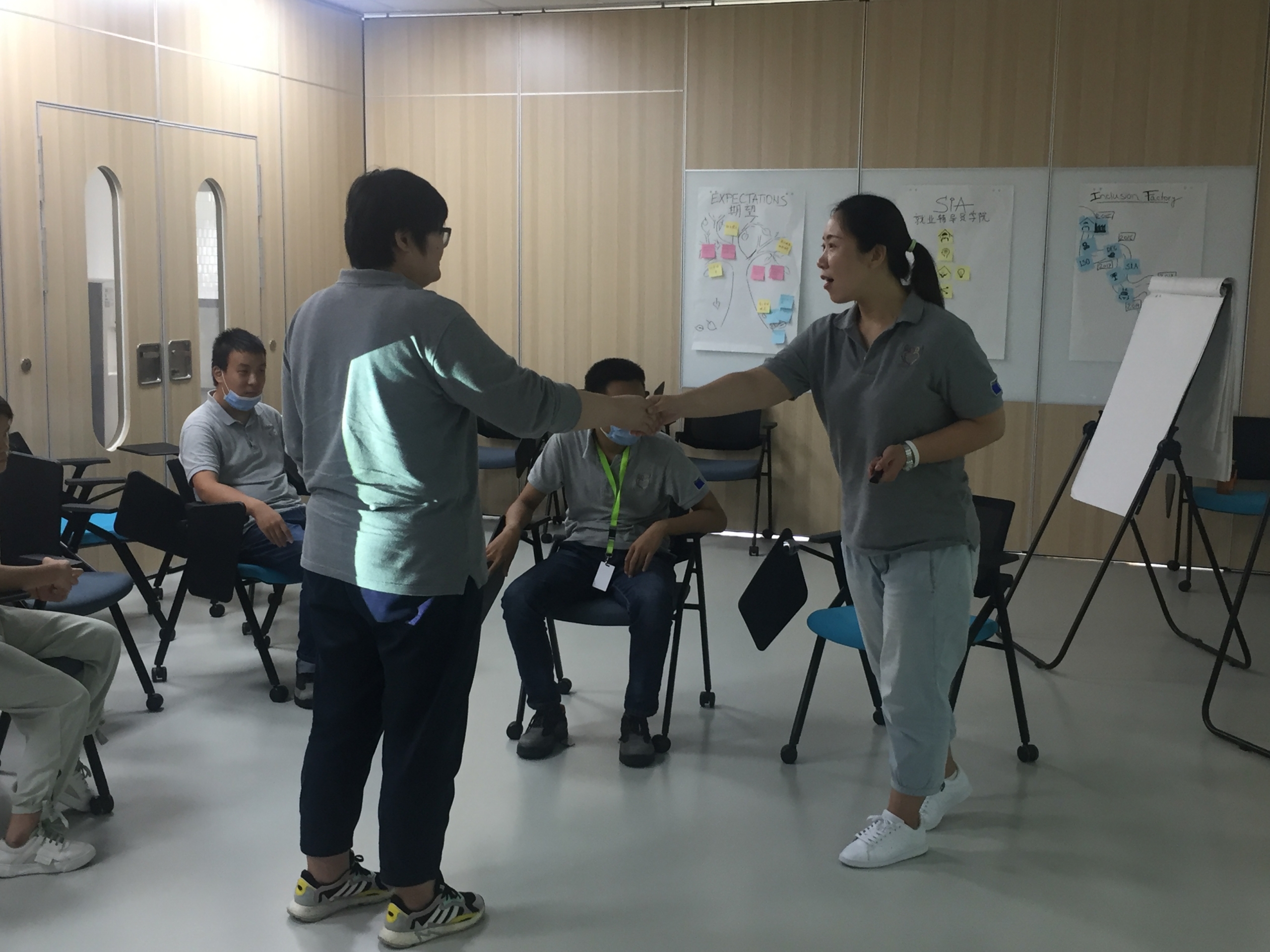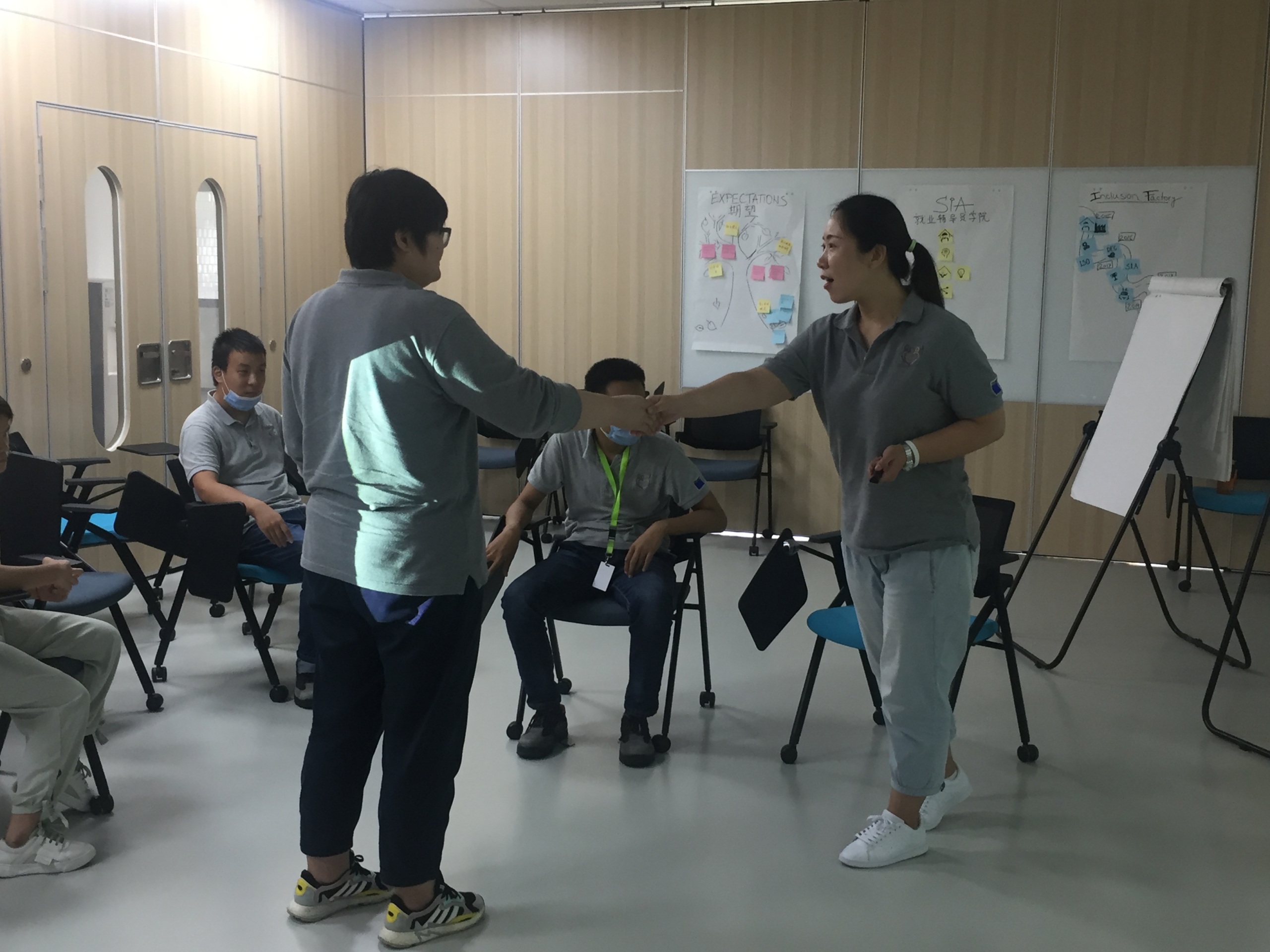 Group training for our employees about social etiquette
New modules and new partners
To help our participants to get a better understanding of our company`s operations and overall structure, we decided to add a whole new module about social entrepreneurship – concept that is relatively new to many Chinese people working in the third sector. We invited Jill Tang to introduce the concept of social entrepreneurship and share her own experience as a social entrepreneur. After getting an insight into social entrepreneurship, SAP team helped our participants to step out of a charity model and think of differentstrategies to restructure their own organization using a business model. Jungle Fish team gave us a glimpse into the secrets of company`s branding, and Flex team shared with our participants why CSR (Corporate Social Responsibility) should be seen as an important value for the companies.
Feedback from our participants:
This month's training gave me a much better understanding of people with intellectual disabilities and formed an overall framework for their employment. SIA`s curriculum is very comprehensive, with topics ranging from understanding people with intellectual disabilities, disability awareness, teaching methods used at (work) training, employment of people with disabilities, production-related issues, establishment of sheltered workshop (social enterprise) to practical lessons. All lectures are well-linked together, getting deep in content. I found especially useful strategies to support the work of people with disabilities – positive behavior support, behavior management, effective communication, employee motivation, teaching methods, work training, personal development plans, etc. On the other hand, lectures like establishment of sheltered workshop, taking production orders, quality management, every-day operations and other aspects of management gave us many opportunities for learning and discussions. This training was really great, I had a chance to be in contact with every single employee. Being able to support the employees at work made me very happy. I hope to keep in contact with Inclusion Factory and have a chance to come for a second round of training.

Qin Yingying, Shenzhen Autism Society
SIA training was short but very meaningful. The systematic course covered topics like understanding of people with intellectual disabilities, employment, management and establishment of sheltered workshop and strategies to help people with disabilities achieve supported employment. Professional lectures shared their own experience and various practical examples, I am looking forward to having the opportunity to come to Inclusion Factory again and keep studying.

Ma Yan, Tianjin Star's Dream Public Service Centre

We are grateful to all our project partners for their support!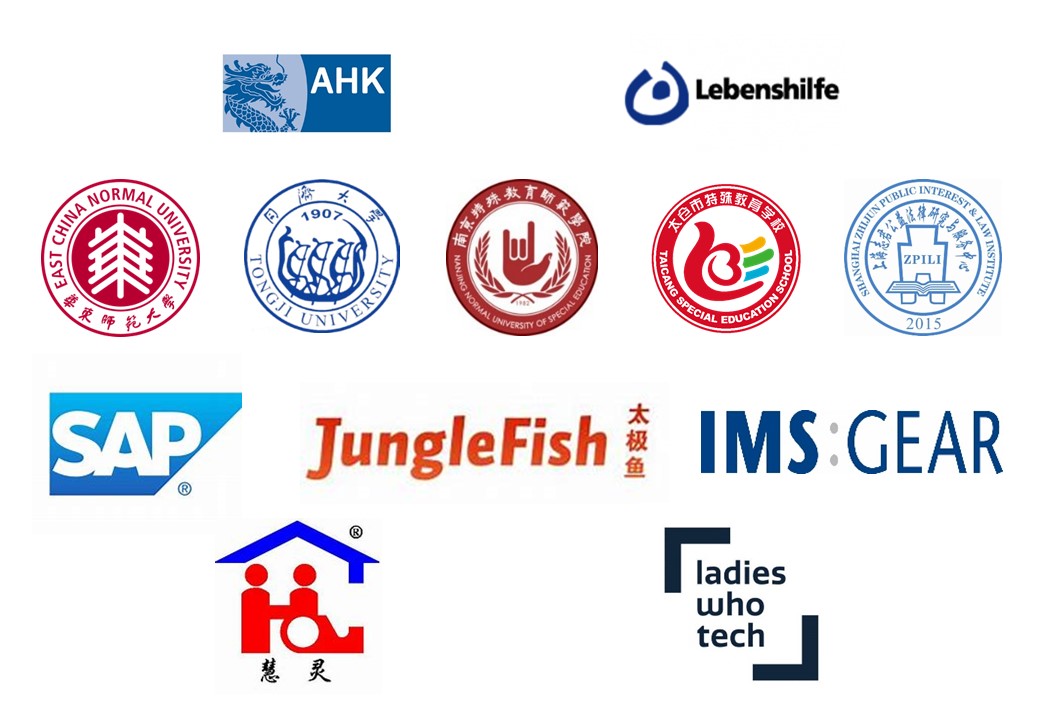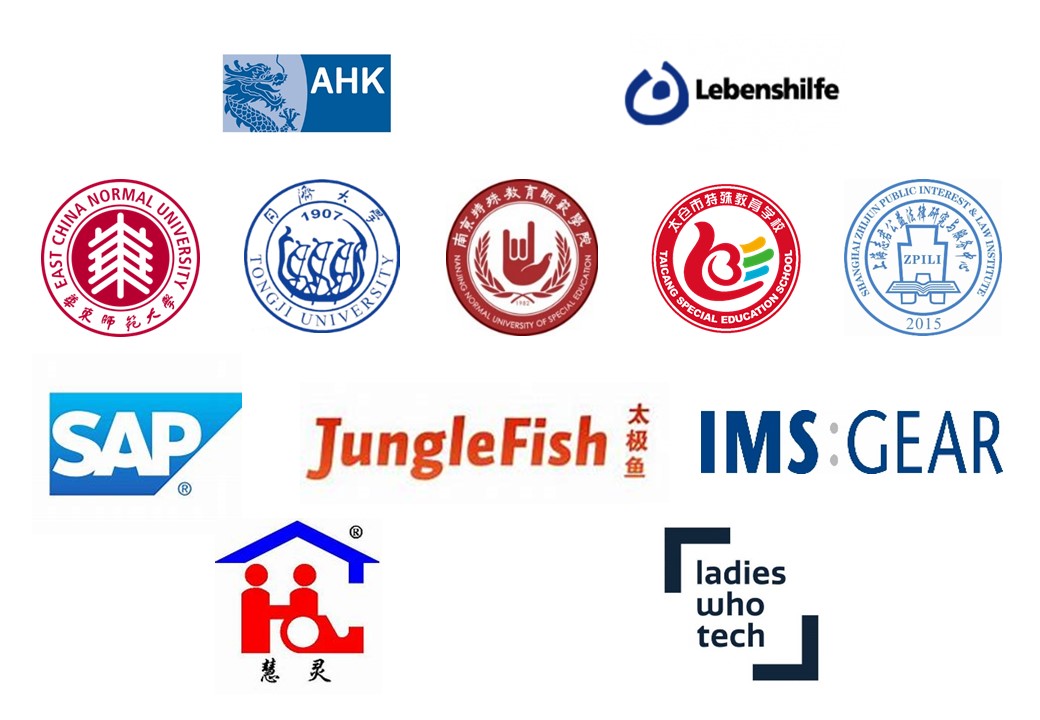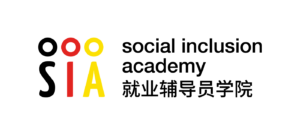 SIA is based on the German Lebenshilfe model complemented with accumulated experience of Inclusion Factory. It is certified by Vocational Training Department of AHK (Delegations of German Industry and Commerce). In four years of its existence 15 Job Coaches have been successfully trained, after graduation, participants keep promoting inclusive employment of people with disabilities.
https://inclusion-factory.com/wp-content/uploads/2020/07/资源-2-100.jpg
1102
1601
Forest Leung
https://inclusion-factory.com/wp-content/uploads/2023/11/Inclusion-Factory-logo-titled.svg
Forest Leung
2020-07-28 17:14:55
2020-09-29 16:28:43
Social Inclusion Academy has new graduates!