Transition from School to Company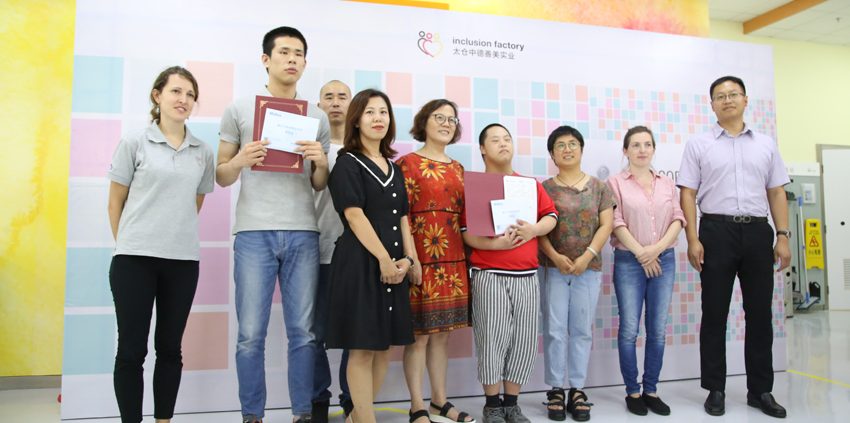 On July 11th, two interns who participated in Inclusive Employment Transition Program funded by Mubea Help Foundation have just successfully accomplished their internship. Both students who come from Taicang Special Education School spent one semester at Inclusion Factory – making transition from young students finishing their studies into productive staff members. We would like to express our heartfelt thanks to Mubea Help Foundation and and Taicang Special School for their support.
The aim of Inclusive Employment Transition Program is to give the students possibility to do a 6 month internship before they officially leave their school. With help of professional vocational training they get better adapted to the workplace environment. In short, Transition program helps students to get better integrated into society after they graduate from school.
At the end of the program, successful graduates can directly join Inclusion Factory and stay on full-time employment.
Inclusion Factory cooperated with Mubea Help Foundation and with Taicang Special Education School. Our aim is to to build a system where students from special education school come to work at Inclusion Factory and then enter a main-stream enterprise. Diversity and inclusion have been in focus of Mubea since long time, they have actively undertaken CSR (Corporate Social Responsibility) and have assisted in organization development and community construction.

https://inclusion-factory.com/wp-content/uploads/2019/07/WeChat-Image_20190712161601722.jpg
527
850
Zoe
https://inclusion-factory.com/wp-content/uploads/2023/11/Inclusion-Factory-logo-titled.svg
Zoe
2019-07-19 15:32:35
2019-11-18 17:57:45
Transition from School to Company